Listed by increasing Pout/Vdc

Amateur Radio - REPEATER RF AMPLIFIERS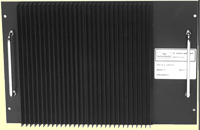 CD/cc (front view)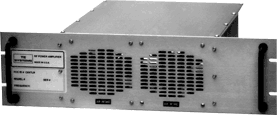 CD/fn (front view)
Amplifier Description
Specifications show typical Pin/Pout/Freq specs and DC power requirements. These are typically Class C operation and prefer to be operated near their maximum input drive and output power levels. All amps are specifically checked and are free of harmonics and spurious
to -60dBc. Continuous-duty amps are straight amps only and most can have a relay bypass added (option).
Excellent electrical and mechanical construction integrity using the best quality components and workmanship. All models are manufactured in U.S.A. and carry a 1 year limited warranty. Designed to 100% duty ratings and meets FCC part 22 and 90 regulations. Consult factory for special requirements.
Type Description
CD/cc (-RN) - Continuous-duty, rack-mount, medium-power amplifiers. Cooling is by convection from large vertically oriented heatsinks mounted frontside on the rack panel. Size/Wt is 9 x 19 x 4" (h, w, d) / 14 Lbs for -RN.
CD/fn (-RA) - Continuous-duty, rack-mount, high-power amplifiers. Cooling is from forced-air (dual-redundant fans) with airflow from front-to-back. Size/Wt is 5 x 19 x 15" / 18 Lbs.
Accessories
BYPASS- RELAY - Can be installed in many of the amplifiers allowing a "RF-thru" when DC voltage is switched off.
Views/Descriptions/Options
50-54 MHz Repeater RF Amplifiers
| | | | | | | | |
| --- | --- | --- | --- | --- | --- | --- | --- |
| Model | Pin | Pout | VDC | A | Conn | Type | $ |
| | | | | | | | |
| --- | --- | --- | --- | --- | --- | --- | --- |
| 0505RN | .4-.8 | 80 | +13.8 | 12 | UHF | CD/cc | 779 |
| 0506RN | 5 | 80 | +13.8 | 10 | UHF | CD/cc | 741 |
| 0508RN | 1 | 170 | +13.8 | 28 | UHF | CD/cc | 836 |
| 0510RN | 10 | 170 | +13.8 | 25 | UHF | CD/cc | 730 |
| | | | | | | | |
| --- | --- | --- | --- | --- | --- | --- | --- |
| Model | Pin | Pout | VDC | A | Conn | Type | $ |
| | | | | | | | |
| --- | --- | --- | --- | --- | --- | --- | --- |
| 0548RA | .1-.2 | 170 | +13.8 | 30 | UHF | CD/fn | 1158 |
| 0550RA | 2-6 | 375 | +13.8 | 59 | UHF | CD/fn | 1130 |
| 0552RA | 20-25 | 375 | +13.8 | 54 | UHF | CD/fn | 1046 |
| 05612RA | 20 | 600 | +28 | 32 | N | CD/fn | 1683 |
144-148 MHz Repeater RF Amplifiers
| | | | | | | | |
| --- | --- | --- | --- | --- | --- | --- | --- |
| Model | Pin | Pout | VDC | A | Conn | Type | $ |
| | | | | | | | |
| --- | --- | --- | --- | --- | --- | --- | --- |
| 1406RN | 15-25 | 100 | +13.8 | 12 | UHF | CD/cc | 649 |
| 1409RN | 2 | 150 | +13.8 | 25 | UHF | CD/cc | 754 |
| 1410RN | 4-8 | 160-200 | +13.8 | 27 | UHF | CD/cc | 746 |
| 4410RA | 4-8 | 160-200 | +13.8 | 27 | UHF | CD/fn | 849 |
| 1412RN | 25-50 | 160-200 | +13.8 | 22 | UHF | CD/cc | 683 |
| 1412RA | 25-50 | 160-200 | +13.8 | 22 | UHF | CD/fn | 790 |
| | | | | | | | |
| --- | --- | --- | --- | --- | --- | --- | --- |
| Model | Pin | Pout | VDC | A | Conn | Type | $ |
| | | | | | | | |
| --- | --- | --- | --- | --- | --- | --- | --- |
| 1448RA | .25-.5 | 160-200 | +13.8 | 29 | UHF | CD/fn | 1029 |
| 1450RA | 2-6 | 350 | +13.8 | 56 | UHF | CD/fn | 1147 |
| 1452RA | 10-25 | 350 | +13.8 | 54 | UHF | CD/fn | 1087 |
| 1454RA | 60-80 | 350 | +13.8 | 40 | UHF | CD/fn | 1052 |
| 14612RA | 20 | 600 | +28 | 32 | N | CD/fn | 1683 |
222-225 MHz Repeater RF Amplifiers
| | | | | | | | |
| --- | --- | --- | --- | --- | --- | --- | --- |
| Model | Pin | Pout | VDC | A | Conn | Type | $ |
| | | | | | | | |
| --- | --- | --- | --- | --- | --- | --- | --- |
| 2210RA | 4-8 | 130 | +13.8 | 20 | UHF | CD/fn | 865 |
| 2210RN | 4-8 | 130 | +13.8 | 20 | UHF | CD/cc | 779 |
| 2212RA | 25-45 | 130 | +13.8 | 16 | UHF | CD/fn | 837 |
| 2212RN | 25-45 | 130 | +13.8 | 16 | UHF | CD/cc | 750 |
| 2248RA | .5-1 | 130 | +13.8 | 22 | UHF | CD/fn | 1088 |
| | | | | | | | |
| --- | --- | --- | --- | --- | --- | --- | --- |
| Model | Pin | Pout | VDC | A | Conn | Type | $ |
| | | | | | | | |
| --- | --- | --- | --- | --- | --- | --- | --- |
| 2250RA | 2-6 | 225 | +13.8 | 40 | UHF | CD/fn | 1234 |
| 2252RA | 10-20 | 225 | +13.8 | 36 | UHF | CD/fn | 1158 |
| 2254RA | 60-80 | 225 | +13.8 | 32 | UHF | CD/fn | 1125 |
| 22612RA | 20 | 500 | +28 | 28 | N | CD/fn | 1733 |
420-450 MHz Repeater RF Amplifiers
| | | | | | | | |
| --- | --- | --- | --- | --- | --- | --- | --- |
| Model | Pin | Pout | VDC | A | Conn | Type | $ |
| | | | | | | | |
| --- | --- | --- | --- | --- | --- | --- | --- |
| 1410RA | 10 | 100 | +13.8 | 19 | N | CD/fn | 885 |
| 4410RN | 10 | 100 | +13.8 | 19 | N | CD/cc | 798 |
| 4412RA | 15-20 | 100 | +13.8 | 19 | N | CD/fn | 865 |
| 4412RN | 15-20 | 100 | +13.8 | 19 | N | CD/cc | 779 |
| 4414RN | 35-45 | 100 | +13.8 | 14 | N | CD/cc | 753 |
| 4446RA | .1 | 100 | +13.8 | 26 | N | CD/fn | 1273 |
| | | | | | | | |
| --- | --- | --- | --- | --- | --- | --- | --- |
| Model | Pin | Pout | VDC | A | Conn | Type | $ |
| | | | | | | | |
| --- | --- | --- | --- | --- | --- | --- | --- |
| 4448RA | 1-5 | 75-100 | +13.8 | 25 | N | CD/fn | 1062 |
| 4450RA | 2-6 | 180 | +13.8 | 35 | N | CD/fn | 1229 |
| 4452RA | 10-25 | 180 | +13.8 | 30 | N | CD/fn | 1174 |
| 4454RA | 60-80 | 180 | +13.8 | 26 | N | CD/fn | 1131 |
| 44612RA | 20 | 300 | +28 | 16 | N | CD/fn | 1733 |